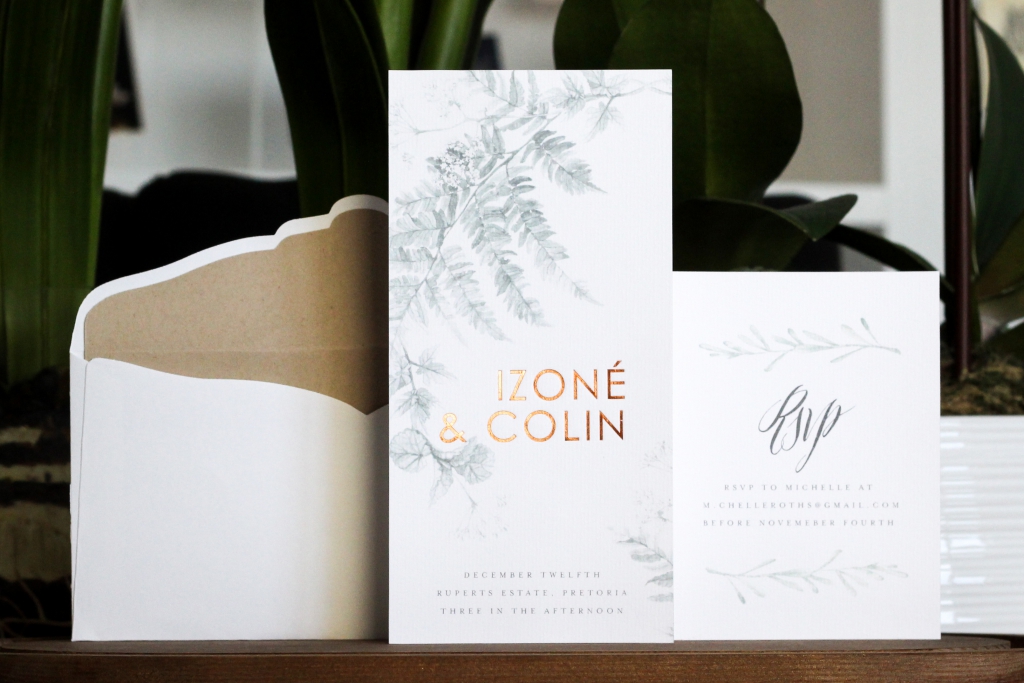 What's Your Invitation Style? | Flat Card and Envelope
Planning a wedding has become a massive series of options and decision-making. There are just so many options to choose from and it can be overwhelming to know where to start or pinpoint what you like and want.
We're helping you sus out the style that best resonates with you in our Invitation Style series. Today we're going to be chatting about the classic flat card and envelope. Even when opting for a simple card into an envelope – there are many choices to make!
Below I break down some of the different ways to finish off the flat card. Of course, there's always room for customization and tweaking with colours, papers and finishes to get to an end product you like.
All the invites below are available on our online store – click on the photos to shop!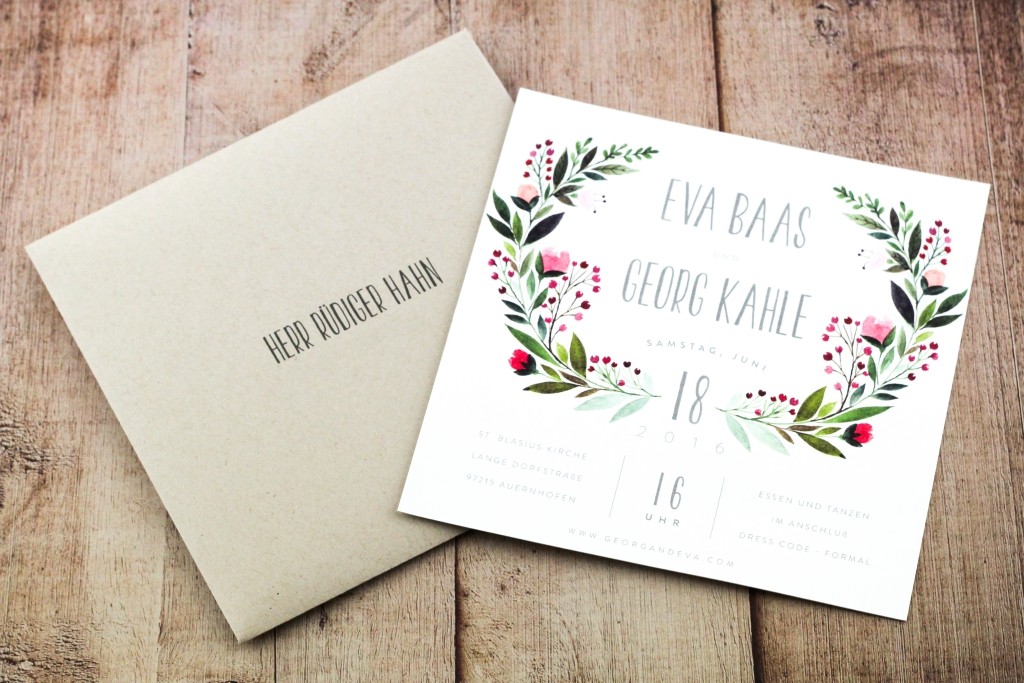 Digitally Printed
This is the most cost-effective finish, but it could offer exactly the minimalistic style you're after. If you'd still love some luxury, opt for a luxurious textured or shimmer paper to brighten up your printed card! You have the option to print on both sides of your card and to pick a size that suits you. Most commonly used sizes include square, A5 and post card size.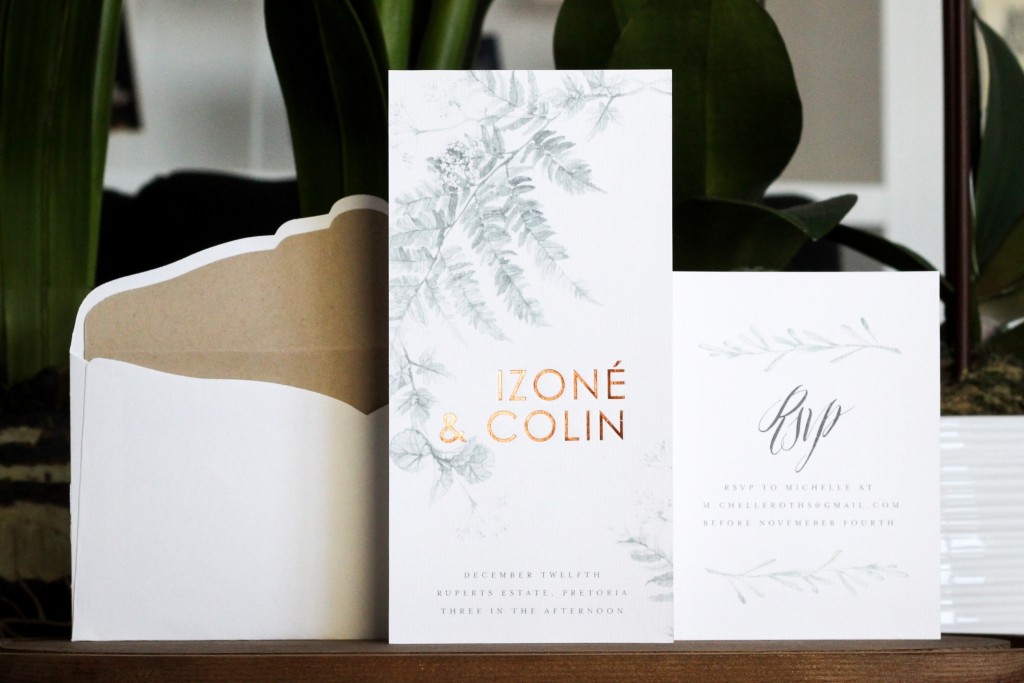 Digitally Printed and foiled
You like the digital printing, but you feel that your card needs a touch of glam. Foiling adds a little fancy to your print and it could be the perfect answer to something a little less over-the-top. Again, you'd be able to customize paper choices and sizes. The invite below showcases a beautifully scalloped envelope, which I think makes all the difference in making sure the suite has impact.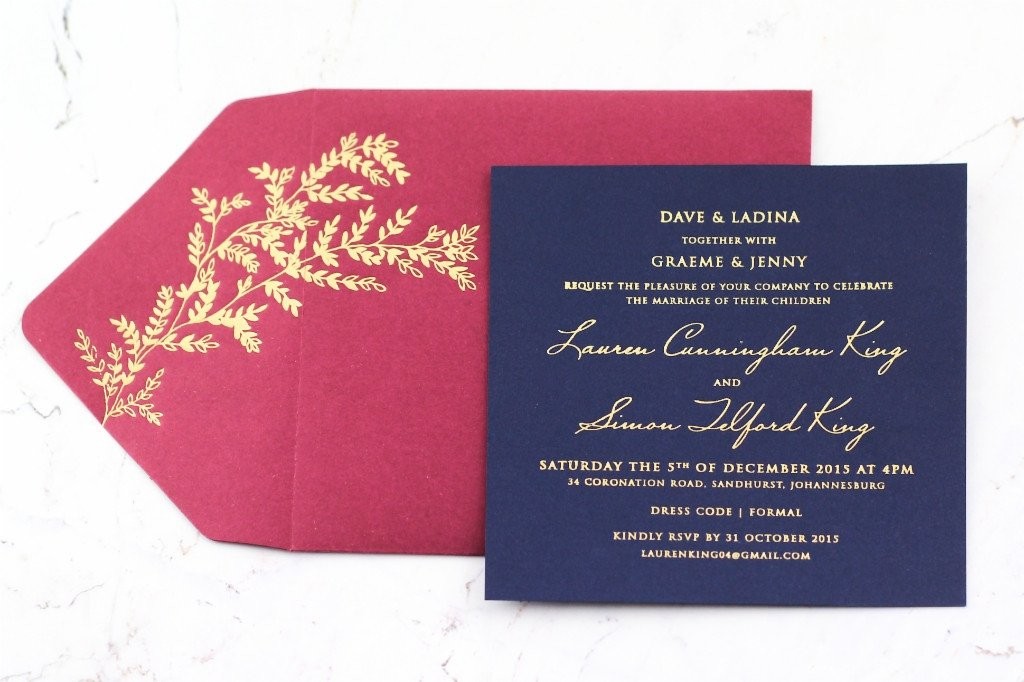 Fully Foiled
Opting to fully foil your card in gold can be beautifully bold. The look of glimmering metallic as the receiver holds their card, will be absolutely worth it. Whenever something needs to be foiled, we make up a plate (which is a once-off fee) which is used to stamp-foil the design onto the card. Foiling colours we have available are: gold, silver, copper, rose gold, white and black. If you have a specific colour you have in mind that's not listed, chat to us – we might be able to help! Stamp-foiling will show on the back of the card, so we don't recommend double-sided printing.
Fully Letterpressed
Letterpressing has been around for decades, and there is good reason this finish has stood the test of time. A fully letter pressed card is the epitome of classic  We can letterpress in almost any colour and can colour-match the ink to your wedding colours. We also need to make up plates for these, and we need a plate for every colour used. Letterpressing will show on the back of the card, so we don't recommend double-sided printing.
Lasercut
If you're wanting something completely different to the finishes mentioned above, then a laser cut card could be just what you're looking for! We can laser cut your card with any pattern of choice – from finely detailed designs to interesting shapes and sizes! Of course, nothing is stopping you from adding any of the above finishes to your laser cut invite – that could just be an amazingly lux invite, sure to blow your guests away!
If you've always fancied the classic card and envelope combo, but you didn't know what options were available to you, I hope this guide has helped! We're always trying new things and love clients who push the envelope (pardon the pun). If you have something in mind, pop us a mail and chat to us about your vision. We would be thrilled to create something that exceeds your expectations.