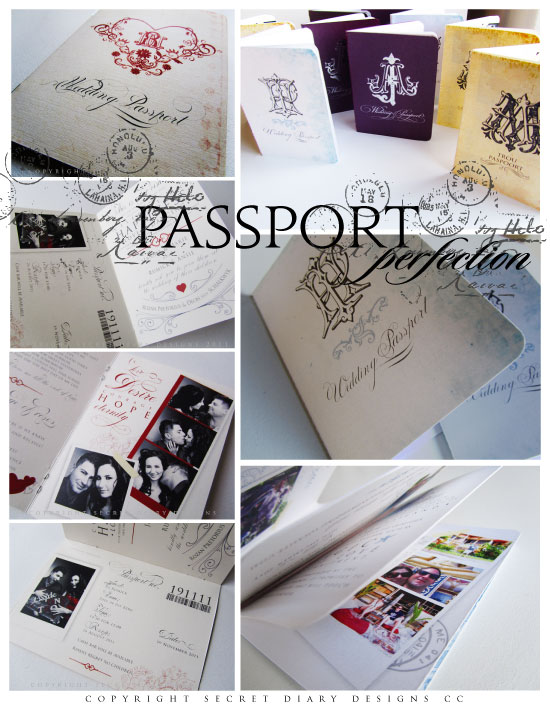 Couture Passport invitations
For all our loyal Passport invitation fans out there who send us hundreds of emails a day to see more pics of these little gems – this is for you!
Our passport invitations have fast become a Secret Diary Designs signature collection! Each passport invitation in 100% unique and is designed around the personality and style of that specific client and their event. We have currently even been propositioned by large corporate companies to create passport invites for their corporate parties and functions which has been great fun! Our passport invitations are best received by your guests in a matching customized envelope which we gladly customize with each of your guests names, surnames and addresses at a minimal additional fee. To finish your envelopes off nicely we suggest that your monogram be repeated on the lip of the envelope where the envelope is sealed and occasionally a touch of additional imagery could add a bit of character to front of the envelope. For added luxury all our envelopes are sold with optional envelope liners which can be printed with a pattern of your choice!
All in all Secret Diary is in the midst of our busiest season to date! Our team has rapidly grown to a whopping group of 7 designers and creativity is at its peak as we are ready and set for the summer months ahead and all the awesome weddings that are to follow!
{Please contact us for a price list for these amazing invitations} info@secretdiary.co.za | {tel} 021 981 9682