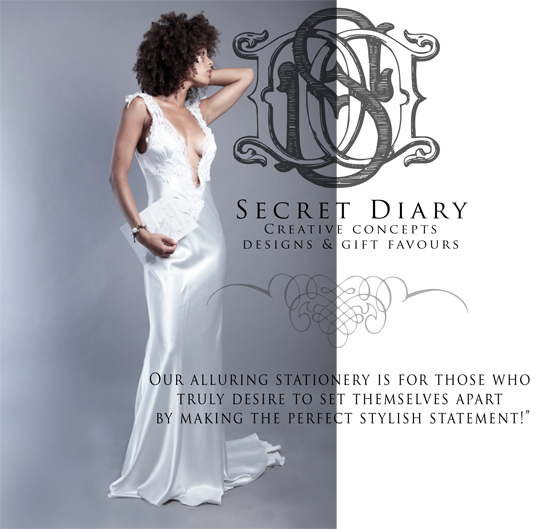 At Secret Diary we try to stay on top of the latest event stationery & style trends and we decided to put together a list ( and a few words of inspiration) of a few of the services we offer in regards to those trends!
Personalised stationery: We are able to personalise practically anything your heart desires from the simplest invitation to the most intricate gift favour. We have recently started designing a range of family stationery whereby our clients can have their family crest, initials or surname printed onto their very own note cards, letterheads and envelopes. These stationery packs make for great gifts for family & friends.
Lasercut stationery: For the style concious bride or hostess! Lasercut stationery is by far the most glam stationery in the world of design at the moment. Lasercutting picks up where die cutting left off as anything that is too difficult to die cut is definatly worthy of being lasercut. We are able to lasercut anything from invitations, programs, table numbers, napkin rings, gift favour boxes, banners, curtains and much more! Set your imagination free as the sky is the limit when it comes to designing for lasercutting.
Die cut stationery: Die cutting is used to cut anything that cant be cut easily by hand or guillotine. From invitation folders, pockets and envelopes to hearts, birds, fans and all sorts of shapes. We pride ourselves on our ability to die cut any design our clients require. We also offer die cutting to other design studios/ companies and private individuals requiring die cutting.
Perspex decor: We have recently realised a great trend emerging in the form of perspex decor! We are happy to announce that we are able to fulfill any request in regards to perspex decor or stationery. Why not have your guests names cut from perspex in any size or font and use them as both a place setting and a gift favour. Or instead of ordinary table numbers name your tables using words of love cut out of perspex which you can always use around your home again as little decorative additions. We are able to do perspex wording & shapes up to any size you require and have a range of colours including clear, mirror, black and white.
Hot foiling: We have recently seen a great revival in terms of the use of hot foils in stationery and gifting and we are very happy to announce that Secret Diary has now incorporated hot foiling into our resume of services! Foils are availble in silver, gold, hot pink, bronze and turquoise.
Monograms: There is nothing so elegant and stately as a well designed monogram! There is nothing wrong with mixing a little bit of old with something new and the use of monograms in todays ever modern culture brings with it a feeling of opulence and luxury. We are able to custom design a monogram to suit the style and look of your wedding / party /family or corporate stationery.
For more information regarding the service we offer please contact our studio! We are certainly not limited to the services listed above and are a full service design studio offering design, printing, die cutting, foiling, box making, package design, corporate identities and many more to both the public and other businesses. All printing and die cutting is done at our studio in the Northern suburbs of Cape Town.