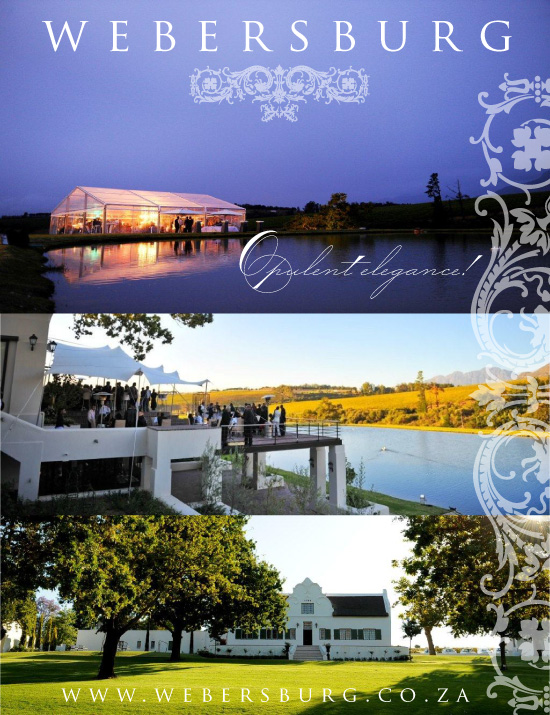 As we are a studio that works with so many venues in the wedding industry we try not to be bias towards any one particular venue. But in saying that there is just one venue I without a doubt have to mention! WEBERSBURG.
I must say that when driving up that oh so breathtaking road that leads to Weberburgs rolling lawns I cant help but drift off into another time and space. I am lucky enough to be friends with one of Webersburgs lovely venue managers and what a treat it is when she invites me out there for tea and cake on a lovely Cape Town winters afternoon!
Not only does Webersburg offer an amazing wedding and event venue, but also immaculate guest accommodation. In actual fact you are quite capable of housing your entire family there for the weekend of your wedding if need be!
The main venue overlooks a breathtakingly beautiful lake as well as a backdrop of the Helderberg mountains which make for some lovely photo opportunities.Quite frankly this venue is a photographers dream!
Delectable is the word when discussing the cuisine that this luxury estate has to offer. From tapas to mouth watering cakes! I found myself wanting to order everything that's on their  menu. Friendly, professional and endearing are other words that spring to mind when referencing the Webersburg team. The venue managers run a tight ship and every event that this venue puts together is pure artistry!
All in all, im a huge fan!
Well done Louwrens, Kaley and the Webersburg team! Its always a pleasure working with you!
You can contact Webersburg at (021)  881 3636 or info@webersburg.co.za
For more info on the estate go to www.webersburg.co.za or take a drive out and see the estate for yourself. Its well worth the trip!