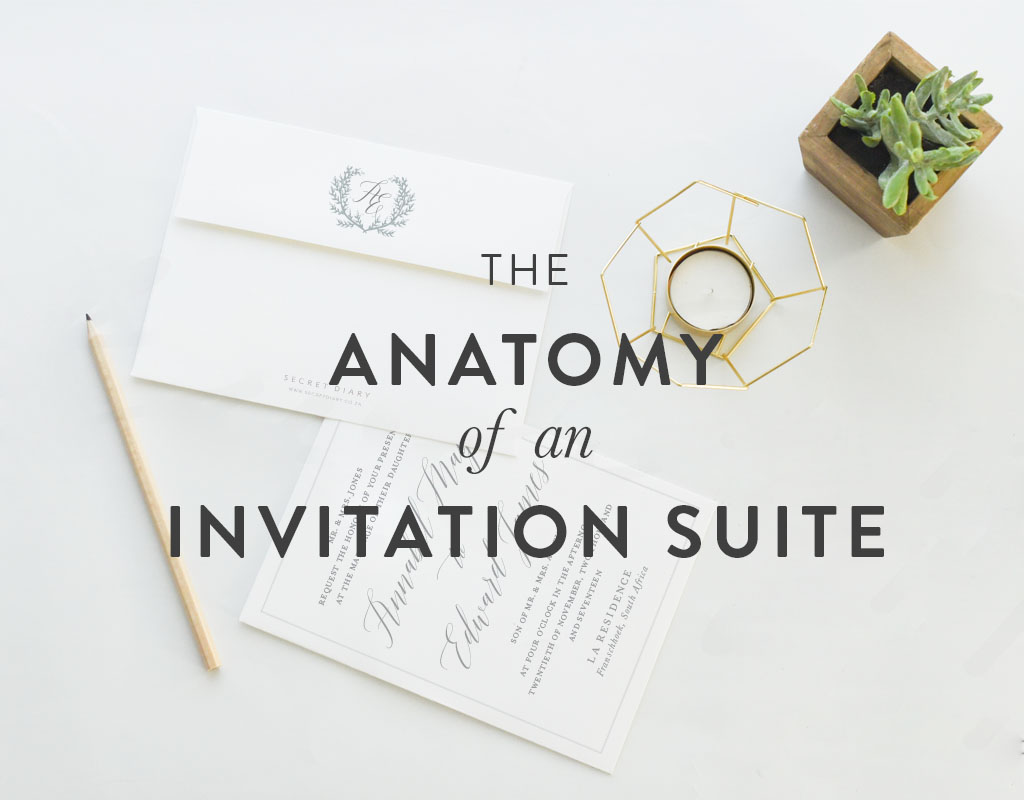 The Anatomy Invitation Suite
When meeting with a lot of just-engaged couples for consultations, it seems that a common question that comes up is "What do I actually need to include in my invitation?". Mostly our couples have never had to think about this before with this being their first wedding and the thought of getting it wrong can be a little daunting. One of our goals is to make the invitation process as enjoyable and stress-free as possible, so we have compiled a complete list of what is actually needed to go into your invites along with the do's and don'ts of inviting.
Main Card
When it comes to whose names are printed on a wedding invitation, modern life can make things a little confusing. Gone is the time when the wedding invitation was issued only by the bride's parents (as hosts, this meant their names headed the lineup). These days, many different people – including the bride and groom – can (and do) host the wedding and issue the invitation. Today's complex family structures (parents are divorced, widowed, remarried, and so on) only further complicate matters when it comes to the wording of the invitation. Your designer will always send you a wording guide with various options for each scenario but there are a few general rules to keep in mind when composing your wording: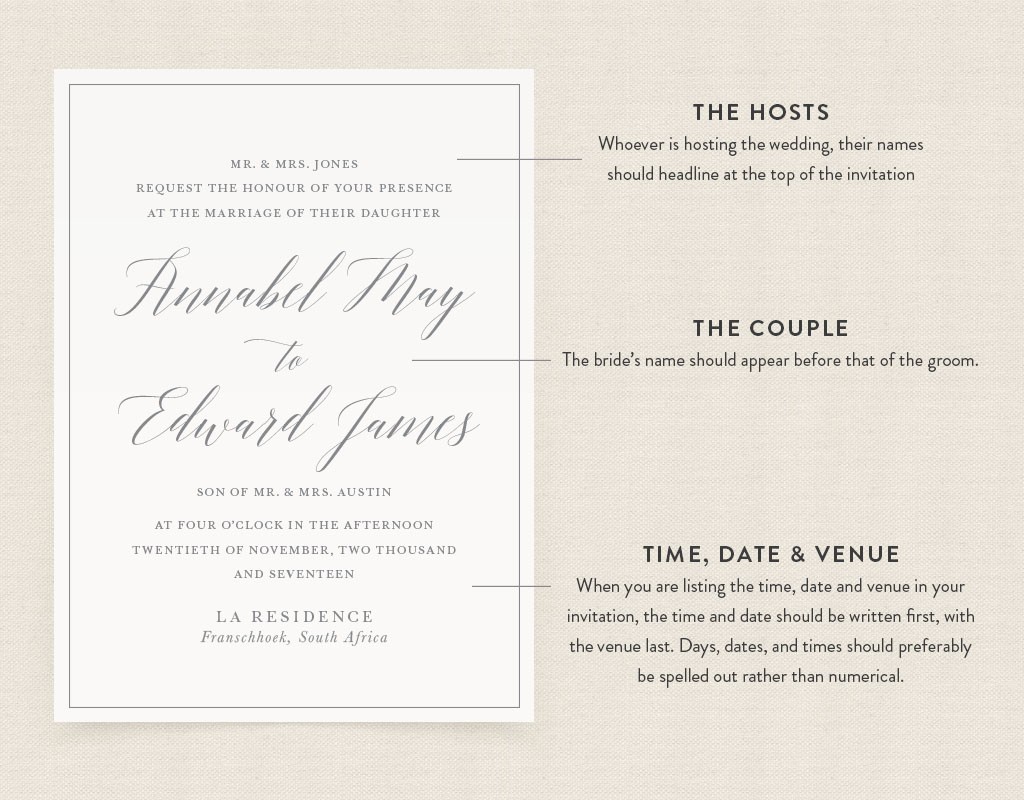 Additional Information
If you have a wedding website with all your additional information present then you may not need any extra cards and can write something like "For more information and to RSVP please see our wedding website www.yourweddingwebsite.com" at the bottom of the main card. But for those not so tech-savvy then here is a breakdown of the additional information you may want to include with your invitations.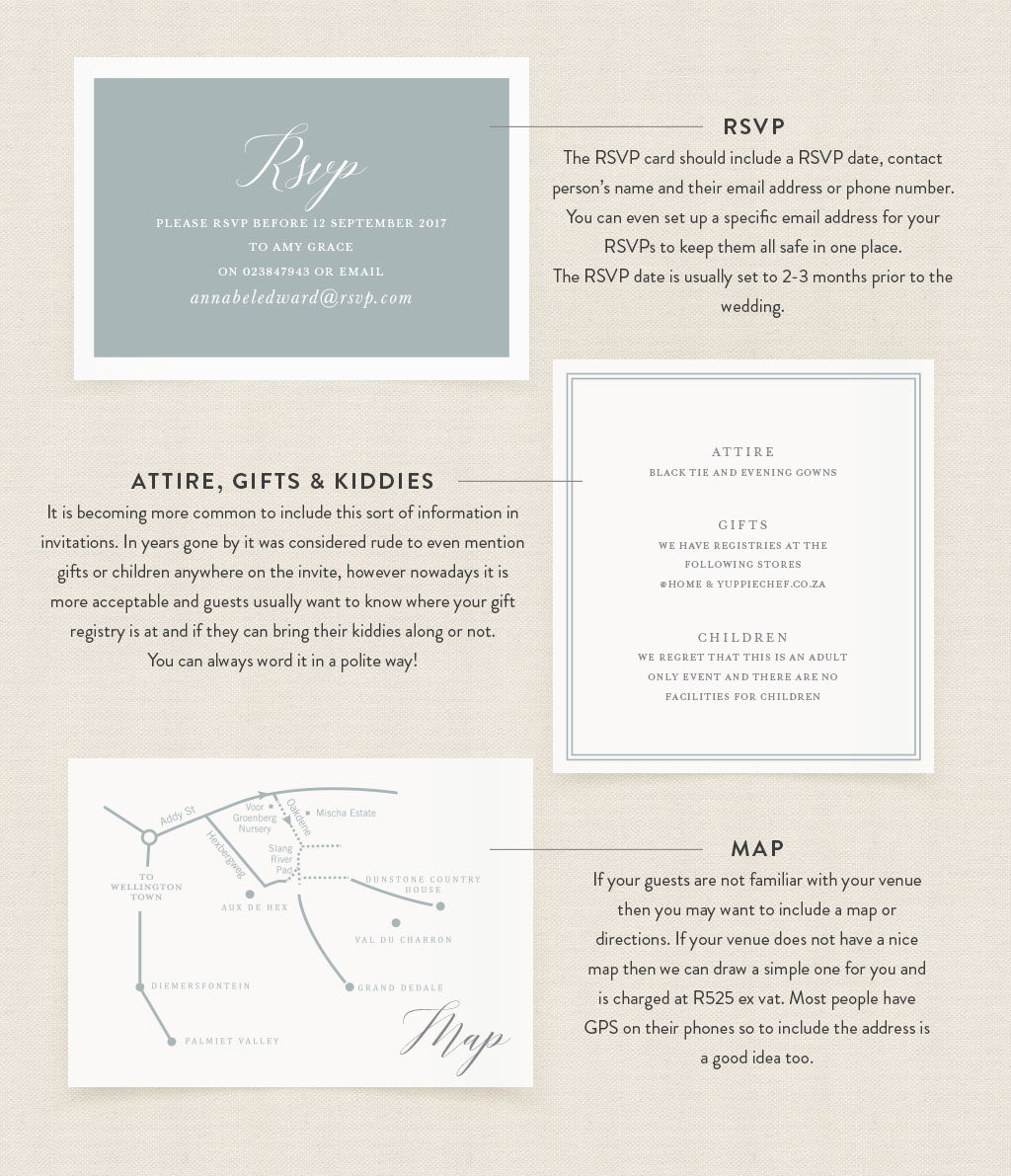 If you are having a destination wedding or inviting lots of international guests then you may want to think about having a wedding website, which we can design for you to match your printed paraphernalia. Some things you may want to include: Accommodation options, fun things to do in the area and flights/transport suggestions.
Addressing the envelopes
We can print your guest names and addresses on the front of your envelopes for a small charge.