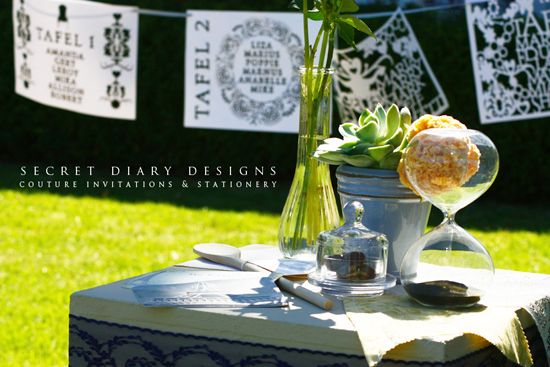 Secret Diary on Pasella 30 March 2011
We will once again be gracing the local tv scene by appearing on a upcoming episode of Pasella (SABC 3)!
We were asked to do 3 lovely table layouts this time and the themes chosen were great fun! The show was filmed on the AMAZING Val de Vie Polo Estate (www.valdevie.co.za) in Paarl –
A must visit for any style concious bride! This venue has it all. From the black and white checkered floors to the pure white ball room and plush velvet lounge furniture (which is a personal favourite of mine!) I find myself falling more and more in love with this venue every time I visit. While visiting do treat yourself to the fabulous restaurants toffee panacotta, which if you're not careful will become a bad addiction!
A BIG thank you to Simone and Elsje from Val de Vie Events for asking us to be part of this magical 2 day shoot, the two of you are AMAZING ! It was an honour to work with you and a more vibrant, on the ball, full of life working pair you wont find! People, these ladies can plan an event!
Contributing with her oh so fabulous floral flair was Jo-Lize from Floral Affairs who has grown to be a dear friend of ours .This will be the second time we have been teamed up with Jo-Lize for an episode of Pasella.
As well as Nico who was our decor extraordinaire and who made a great thorn amongst the roses  and made sure cake and tea was flowing at all times!
In the cake department we were privileged to work alongside the lovely Nicola from La Fete in Stellenbosch who was as sweet as her cakes are!
Val de Vie Polo and wine Estate: www.valdevie.co.za
Floral affairs: www.floralaffairs.co.za
La Fete: www.lafete.co.za