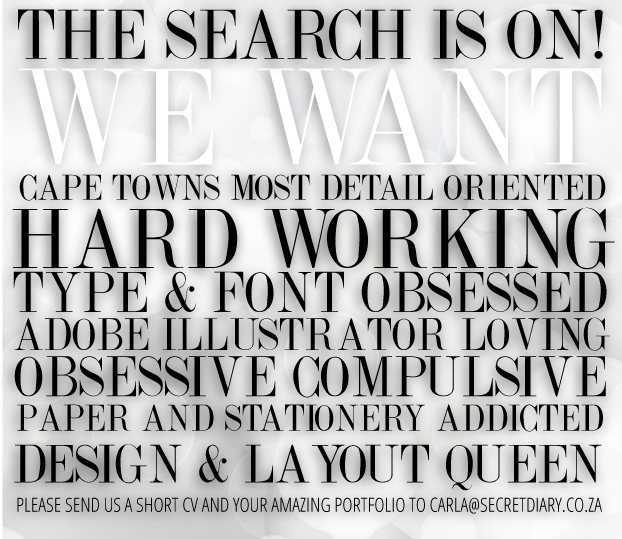 Secret Diary Designer talent search
We are currently on the hunt for an inspired female graphic designer to join our creative team of designers. Because our team is such a close knit, fun loving, hard working design family, were looking for that "perfect addition" to join our already dream team!
In a nutshell: We are looking for a portfolio that will blow our designer socks off!
Our dream candidate would be the following:
Have a minimum 2 years graphic design experience
Experience in print setup and print finishes is a must have requirement.
A diploma or degree in graphic design
Solid experience in Adobe Illustrator, Indesign and Photoshop is a must. Specifically for layout and print setup.
Thrives well under pressure (bearing in mind that it is currently peak season for us, so our perfect candidate should be able to "hit the ground running")
Hard working
A fast and driven learner
Friendly
Well spoken
Have impeccable client liaison skills (as client service is everything to us)
Be inspiring to work with
Be a team player
Have a passion for paper stationery and all things pretty. (Being a Pinterest addict wont hurt)
Great communication skills
Available immediately or absolute latest 1 November 2013
Most importantly we are looking for a designer that we can invest in and that's wanting to build a long term career within our studio. This is not a stepping stone position.  Our Working hours are: Monday to Friday 8:30 – 17:00 (overtime will be required from time to time but is paid) *Salary is negotiable based on your design experience and portfolio.
If you think you're everything were looking for then please without hesitation urgently email us your PORTFOLIO and a SHORT ONE PAGE CV to carla@secretdiary.co.za. (Your portfolio is whats mostly important to us.)