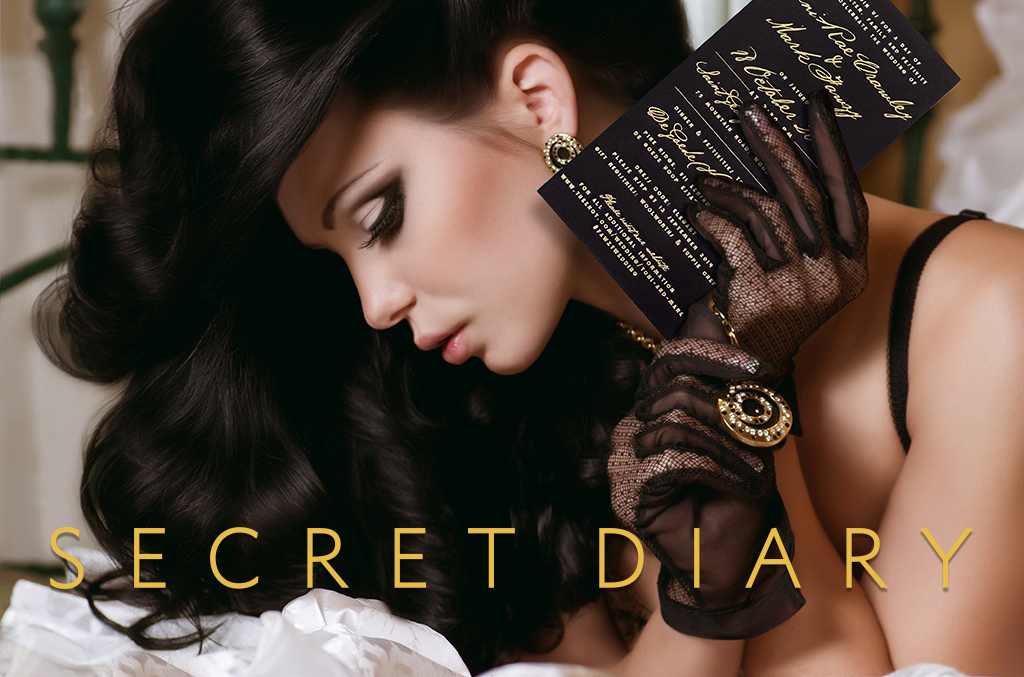 Paint it Black
27.01.2016
Articles, Bird cage invitations, Birdcage invitations, Bridal invitations, Chic wedding invitations, Foiling, Inspiration, Invitation, invitations, Laser cut invitations, Laser cut stationery, Laser cutting, Letterpress, Letterpress invitations, Letterpress printed stationery, Letterpress printing, Projects, Secret Diary Designs, Stationery, Stationery design, wedding, Wedding Events, Wedding Invitation, Wedding invitations, Wedding menu, Wedding menus, Wedding stationery, Wedding stationery designs
When it comes to choosing an invitation or stationery design for a wedding, we very rarely are drawn to the colour black. We here at Secret Diary like to experiment with ALL the colours and textures we possibly can and black most certainly does not scare us! In fact, we've taken it head-on and proved numerous times that it is no longer just a colour associated with Halloween and funerals. That being said, not many people are well-informed on how to include this shade into a design that is not overpowering and dark.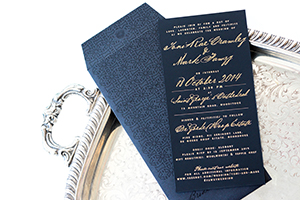 Impress your guests with your ability to make stunning design decisions by letterpressing or foiling on a matte paper. With this option, drama and elegance is created with the texture of the pressed paper and the contrast between the colour you choose and the card. It is slightly pricier than the other options, but we guarantee it is worth every penny!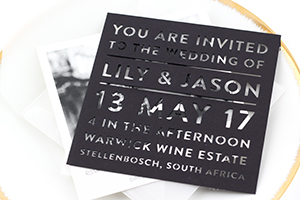 Lasercutting your wording out of black card is a stunning and unique way to go as well! This style creates the illusion of your invitation being three dimensional by using the depth of field your guest will see between the card and its background. This is also a excellent way to give your design an edgy feeling without it being scruffy and chaotic!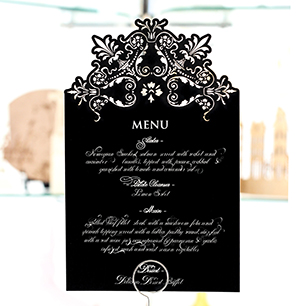 If you're looking for the letterpressed look but your wallet is looking to pack its coins and immigrate to a remote island where it can't be bothered by your relentless spending habits, full ink coverage is the way to go! With this we fill the card with digitally printed black ink, leaving your wording to be the natural colour of whichever paper you choose, and there are LOADS to choose from! This way you are left with a budget that may allow you to add a laser cut design such as the one featured above!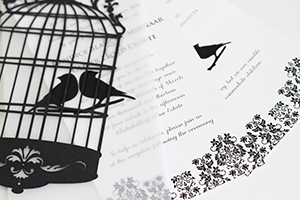 If you're not brave enough to jump into the deep end and incorporate as much of such a dark shade into your order, detailed laser cut embellishments can be used to compliment an invitation designed on a much lighter paper!
This just goes to show that there is ALWAYS something for everyone. We urge you to now go out into the world unafraid and excited to add this deep and luxurious colour to your big day!