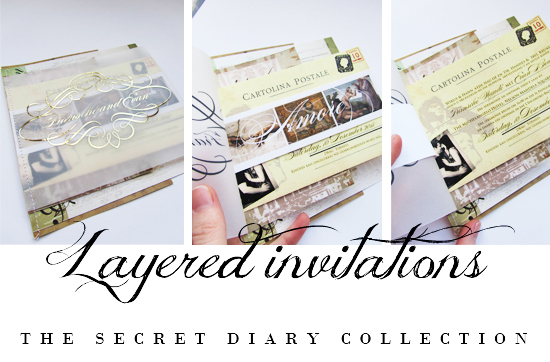 Layered stitched invitations
One of our most favourite invitations to design is most definitely our layered stitched invitations! Not only can you have many different sized pages, but have a wonderful mix of fonts, designs and themes all rolled into one very jam packed creative booklet. These booklets tend to be anything from 140x140mm in size right up to 160x160mm and are great to incorporate little photo strips with either inspiring images which give your guests a sneak peak of your upcoming wedding or pics from a prior engagement shoot. This invitation choice is always accompanied by matching envelopes which can also be highly stylised and printed with your guests names and addresses. For a vintage twist we try to incorporate antique imagery from the early 1700 and 1800's by bringing in old postcards, stamps, baroque decorations and calligraphy! Fabulous gold or silver foiling is also available to add an extra bit of bling to your cover page.
This trendy invitation choice is definitely top of our list this summer and generally ranges from between R30.00 to R50.00 an invite depending on the number of pages and the finishes one chooses to have done.