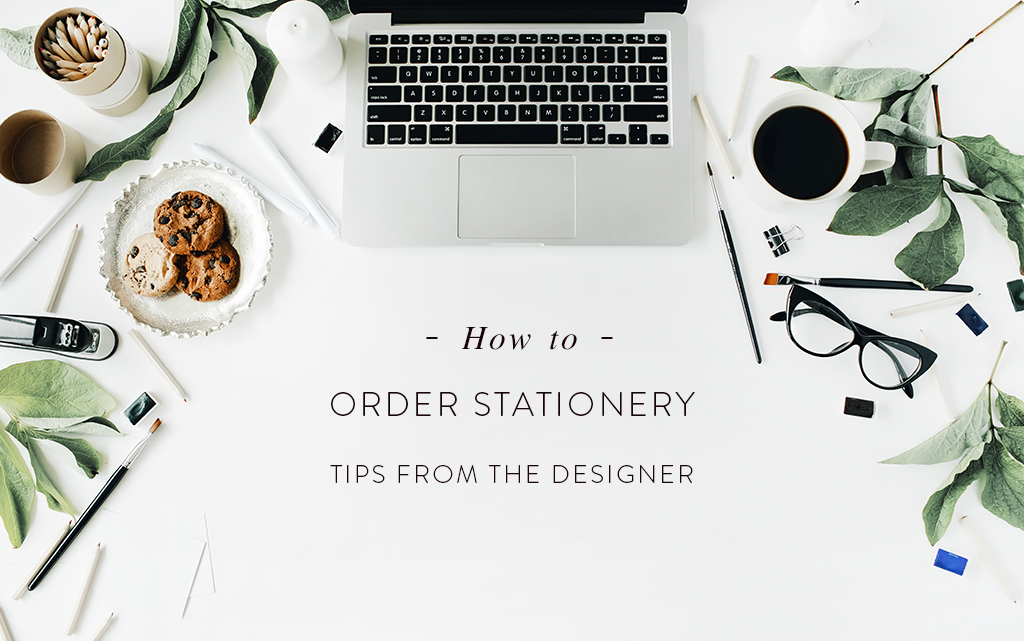 How to order stationery | Tips from the designer
Here follows a basic introduction in all you need to know when ordering stationery from Secret Diary. This comprehensive list includes some of our company policies and some helpful tips and advice from the designers who create these sought after products.
Secret Diary offers two different options to our clients and with each of these options the requirements and input from client and designer varies.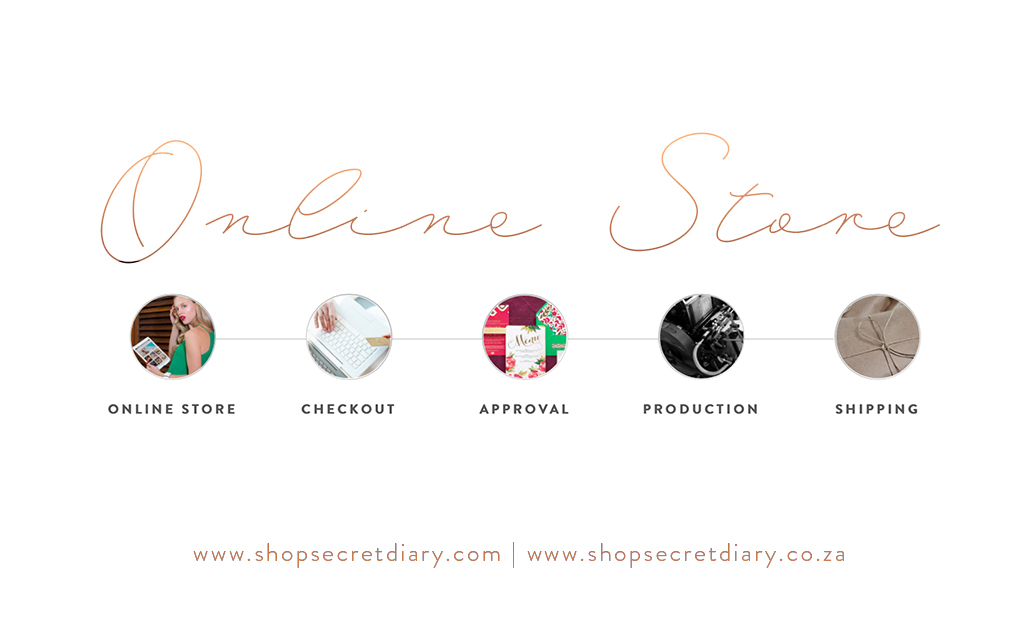 The online store order:
This option is for clients who know exactly what they are looking for and who want to purchase a template from our online store. With this option the creative input from the client is limited as the designer is only allowed to place the wording into the design without making any aesthetic changes. The client will have a choice in regards to the colour of the printing and small finishes like the colour of the ribbon. The paper, typography, layout, and style have already been chosen when the product was purchased. Also important to note is that our online store invitations do not include customisation with guest names laid out and printed on the front of the envelopes unless otherwise stated.
The online store is a smart and savvy option for the planner or bride on a tight budget or deadline.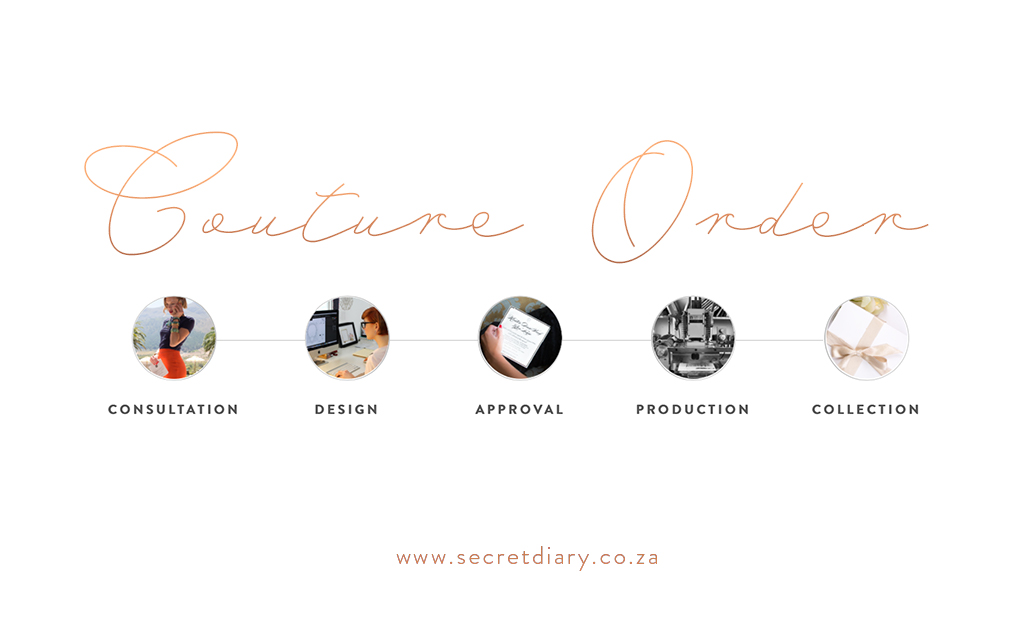 The couture order:
Couture clients want to be involved in the design process from start to finish or want to create something unique and never before seen. This option is also for clients who cannot find anything on the online store that they like or want to make additional changes to a specific product on the online store. These changes can include changing the typography style, spacing, adding on elements, changing the paper, customizing each invite with guest names or opting for double-sided printing.
The couture order is a more involved and creative option for trendsetting bride or planner.
Here follow a few helpful reminders from our design team. These tips include useful information in regards to providing content and feedback to ensure a smooth and successful design experience for both client and designer.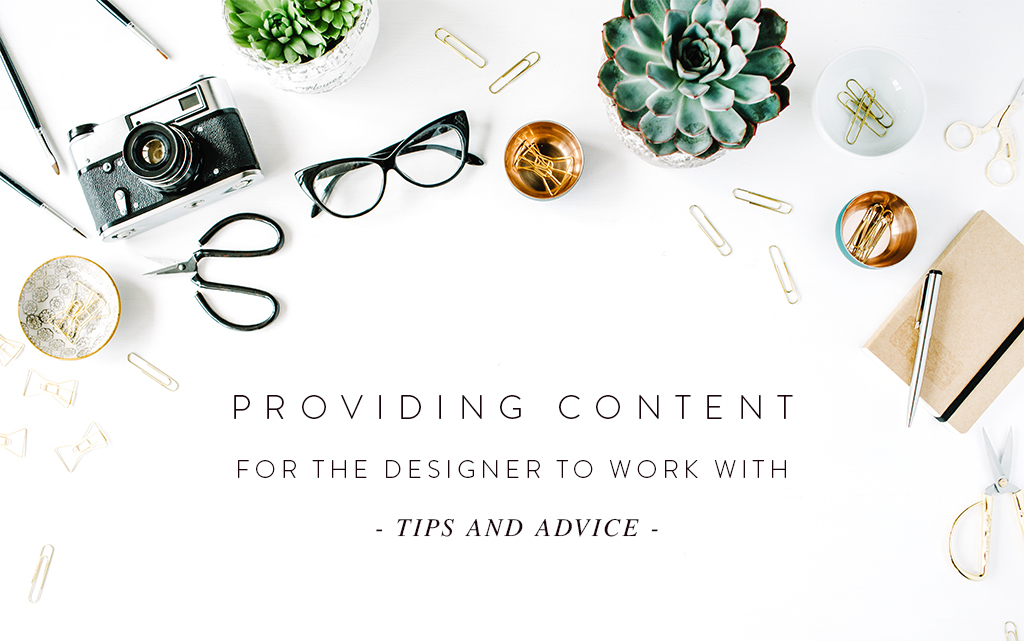 Providing content:
Place your invitation order once you have finalized your wording and wedding details. In order for designers to work efficiently and within tight deadlines it helps when clients are 100% prepared and certain of all information that they would like to appear on the invitation.
Provide your wording in an MS word document in exactly the order you would like it to appear. MS Word helps us to notice spelling mistakes, as our design programmes do not have built in spell checkers.
As a designer, we take inspiration from content like pictures, photographs and mood boards provided by the client, otherwise we would not know where to begin! When providing visual content, provide it in the highest quality or resolution possible. If the image appears blurry or pixelated then it will definitely be of very poor printing quality. Ask your wedding venue or photographer for a high-resolution image and they will happily provide.
If our services are required for printing only we will require your chosen artwork in an open or vector format. 'Vector' is a widely known and common industry term for artworks which are editable and in an open format. We will be able to open your artwork in our editing programmes if the file extension is .pdf or .eps or .ai.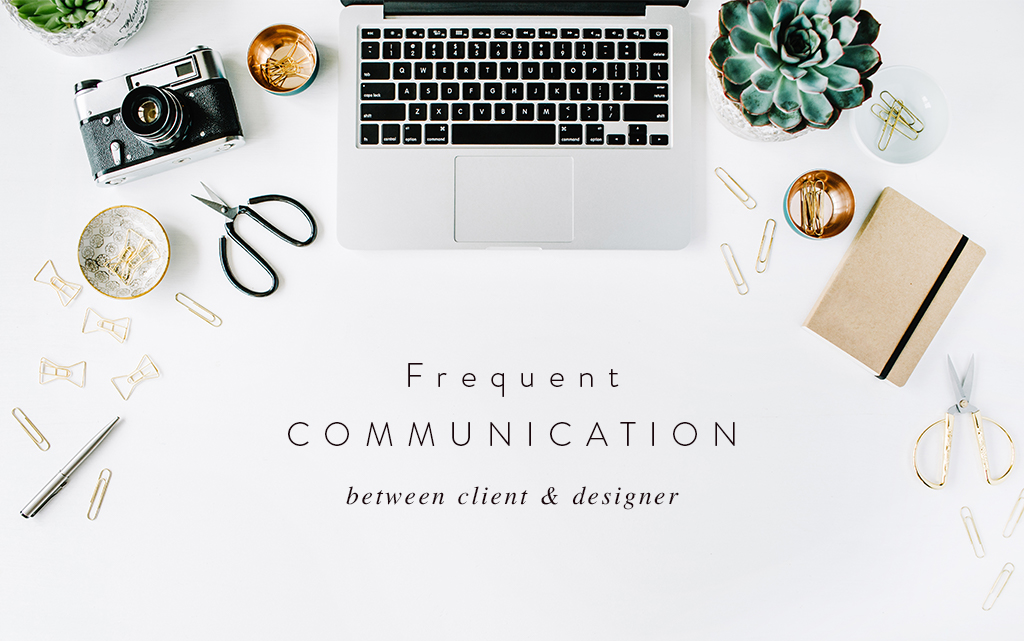 Communication:
Clear and frequent communication between you and your designer is also essential. For the most part email correspondence will be sufficient, but sometimes having a brief conversation over the phone will provide your designer with just a little more clarity in regards to exactly what you are looking for.
With couture orders, be prepared for a back and forth process in regards to finalizing the perfect design. It very rarely happens that the first design is exactly what the client is looking for. A collaborative process of frequent and clear communication is what makes a design unique and successful, because designers rely on the feedback from clients. So don't be afraid to speak up in regards to any aspect of your design as this is what the creative process is all about!
When providing feedback list your corrections with bullet points as this will help the designer keep track of what needs to be corrected. Also be as specific as possible with your feedback and state why you think something is not working from your point of view.
When amending information in your MS Word document, highlight these changes in a different colour to make it easier for your designer to spot the changes.
When your designer provides the first digital mock-up make sure to immediately check for any spelling or punctuation errors, as this will eliminate making last minute changes in regards to wording.
We hope this guide is helpful when placing your order – whether it's online or couture – with Secret Diary. These tips should ensure a quick and effective turn-around time and are even more valuable when you need your order in a rush!
If you are looking to order through us, you can visit www.shopsecretdiary.co.za (currency in ZAR) or www.shopsecretdiary.com (currency in USD) for our online store, or contact us and tell us about your couture (custom) order and we will send you a quote!