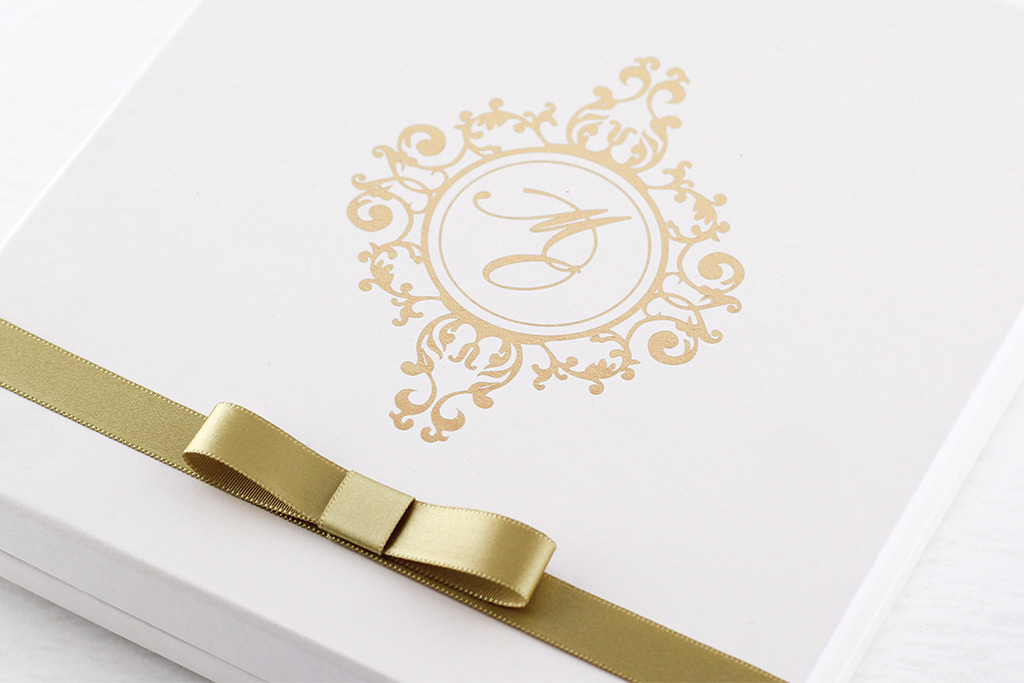 Box Invitations: All You Need To Know
If you adore box invitations and have always dreamed about having them as wedding or birthday invitations then this post is especially for you. Box invitations are always associated with words such as glamour, sophistication, elegance and style – in other words just all out GORGEOUS!! This post is set out to provide you with an abundance of information to do with all the pretty options and styles of box invitations, along with all the printing techniques that we offer so you can combine them to make a perfect boxed invitation uniquely you.
Firstly we offer 2 types of boxes:
1. Luxury Hardboard box invitations. These can come with the lid and base connected to each other with a ribbon hinge or a separate base and lid. For such a luxury box we usually recommend having your monogram foiled on the box lid in a foil colour of your choice from gold, silver, rose gold, copper, gunmetal and array of other foils. The box shape can be completely customised to suit you and the cards inside. To top it off we can finish off this box with a beautiful satin ribbon bow. A wide range of paper options are available for these boxes from shimmer and textured to plain colours or patterned.
2. If you love the showstopping statement of a box invite but time or budget constraints you then our Standard boxes would be best for you. We custom make these boxes inhouse and are made from thick 300gsm paper. These boxes are available in 3 different sizes: 160mm square, A5 and DL long slim. With this box selection we are able to digitally print, letterpress, emboss or foil on the box lid in any preferred colour or design. There are also 2 options to finish off your box, you can opt to have a ribbon bow around the entire box or only opt to have a bow around the lid of the box. The latter option allows guest to open and close your invitation without having to struggle to replace the bow back around the box. Garnish your ribbon or bow with a diamante buckle or perspex engraved tag to finish off the effect.
When you have selected the option that best suits your theme we can move on to your box inserts. Here the options are endless!! We are able to do anything that you could possibly think of…but to make things a little easier we will mention the inserts that are the most popular. So here they are:
1. Firstly we are able to digitally print paper cards in any style or theme of your choice. Have a lot of info? No problem, we can add in as many cards as you require.
2. Our second option is to do letterpressed inserts. The norm with this is generally to only have your main card letterpresses and then digitally print the additional card should you have a lot of information. The again nothing is holding you back to have all cards letter pressed.
3. The third option that we have available is to opt for foiling. The colours that we have available and often use are gold, silver, rose gold, copper and gunmetal. A lovely and popular option is to combine letterpressing with the foiling.
4. The last and most glamorous option is our perspex engraved invite cards. We are able to design these in any shape and size that you can think off. Perspex is available in a variety of colours: gold, silver, clear, black and white.
Now that you have selected your box and insert that suits your wedding theme, you can now add any number of additions… these include a beautiful intricate lasercut pockets or gate folders, tissue paper or band with your guests names on. The options are endless and we are always eager to design new and exciting invitations!! Please challenge us, we will be sure to turn your box invite dreams into reality. Should you need some inspiration, we have a wide range of box invitations available on our online store. Have a peak at some of your stunning box invitations below.
Luxury Box Invitation 1: Two compartments in box that held a main foiled invitation card, a digitally printed additional card and a silver mirror perspex engraved fan.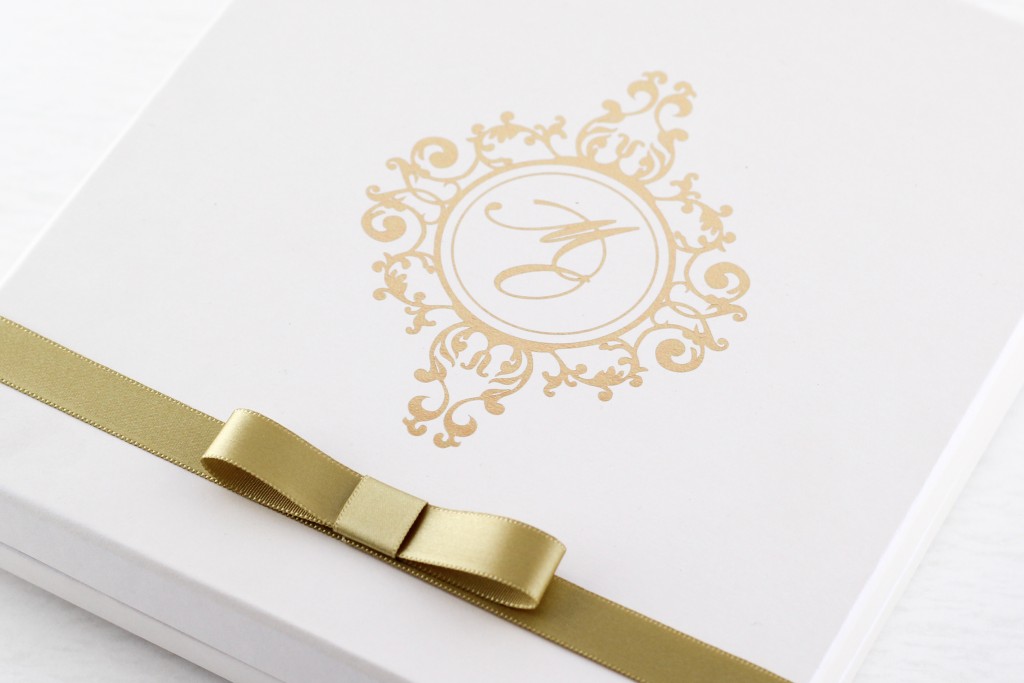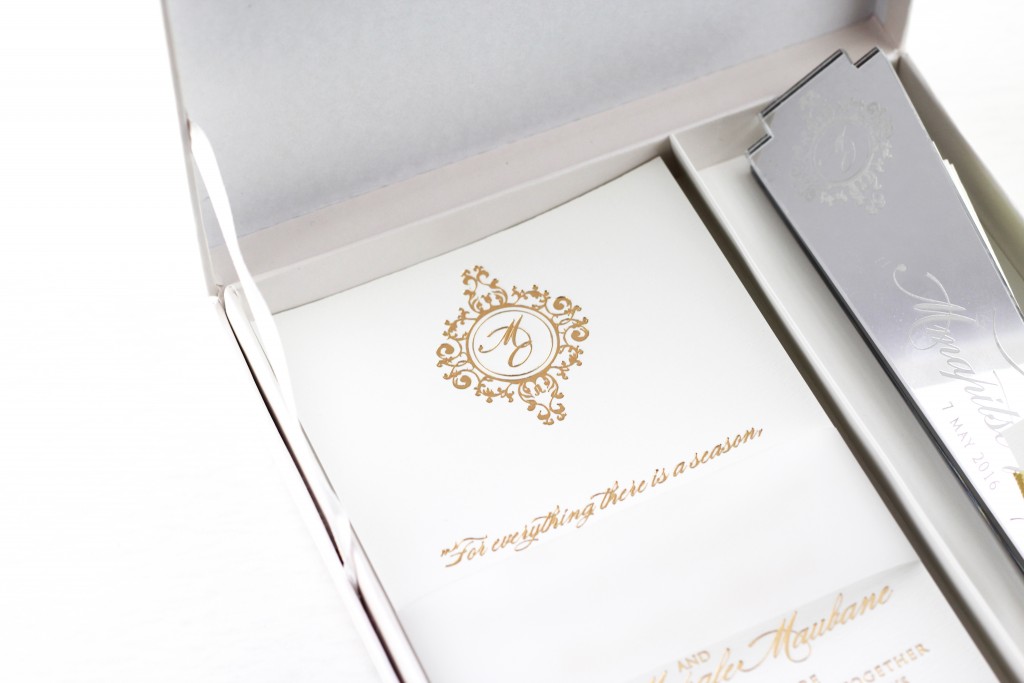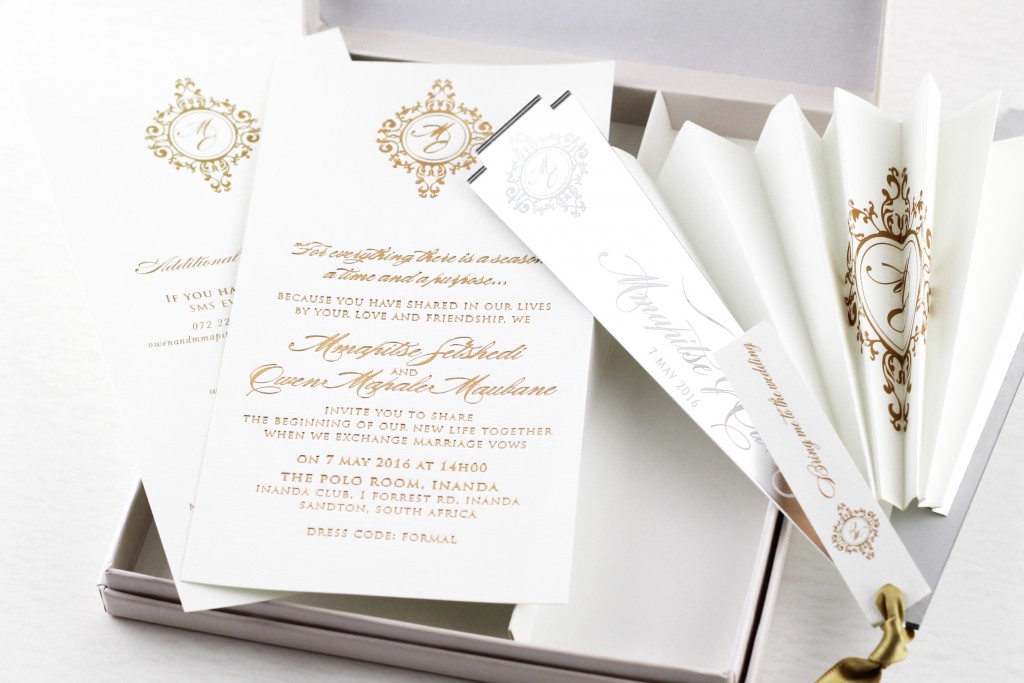 Luxury Box Invitation 2: An A5 invitation with gold foiled insert inside an intricate gold laser cut pocket enclosed with a semi-transparent band with guest name. The box is finished off with a gold edwardian bow.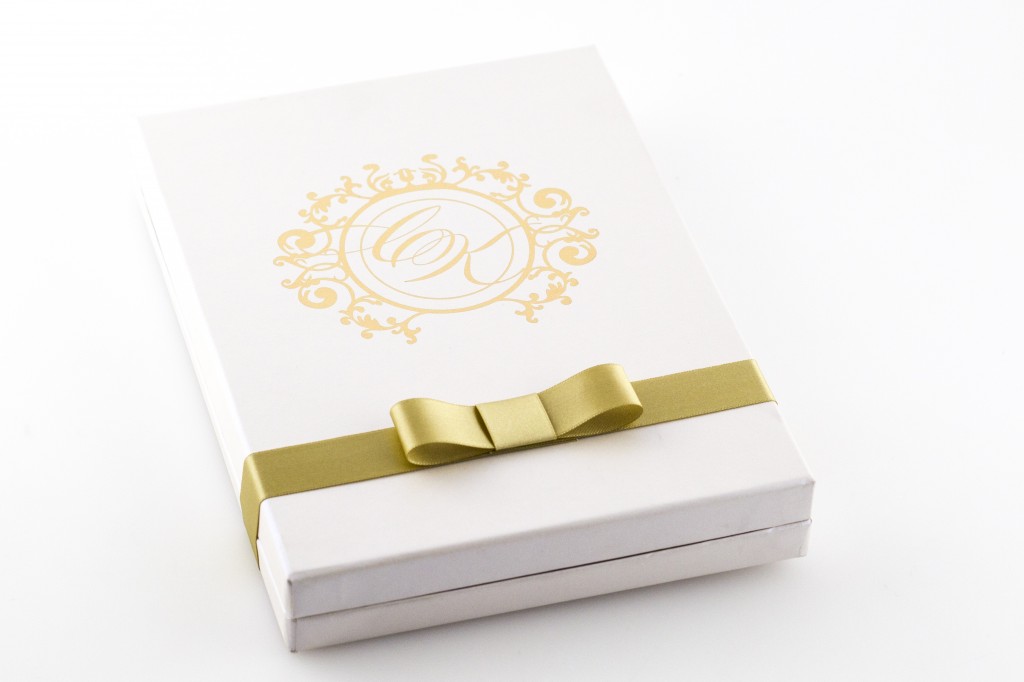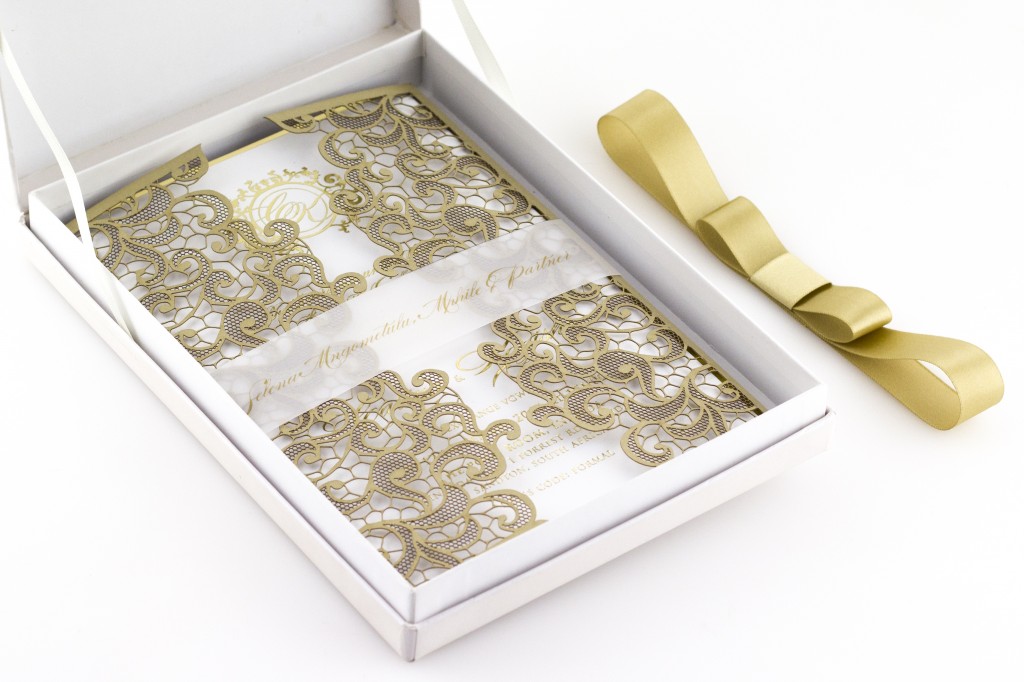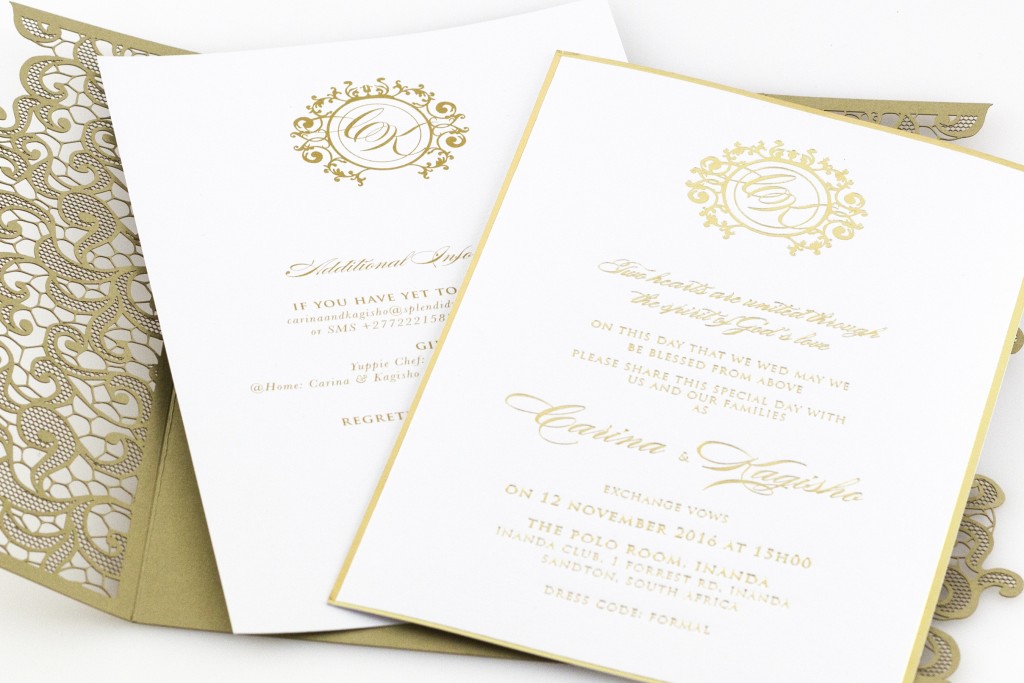 Standard Box Invitation: DL Shape – A boarding pass inspired Invitation Insert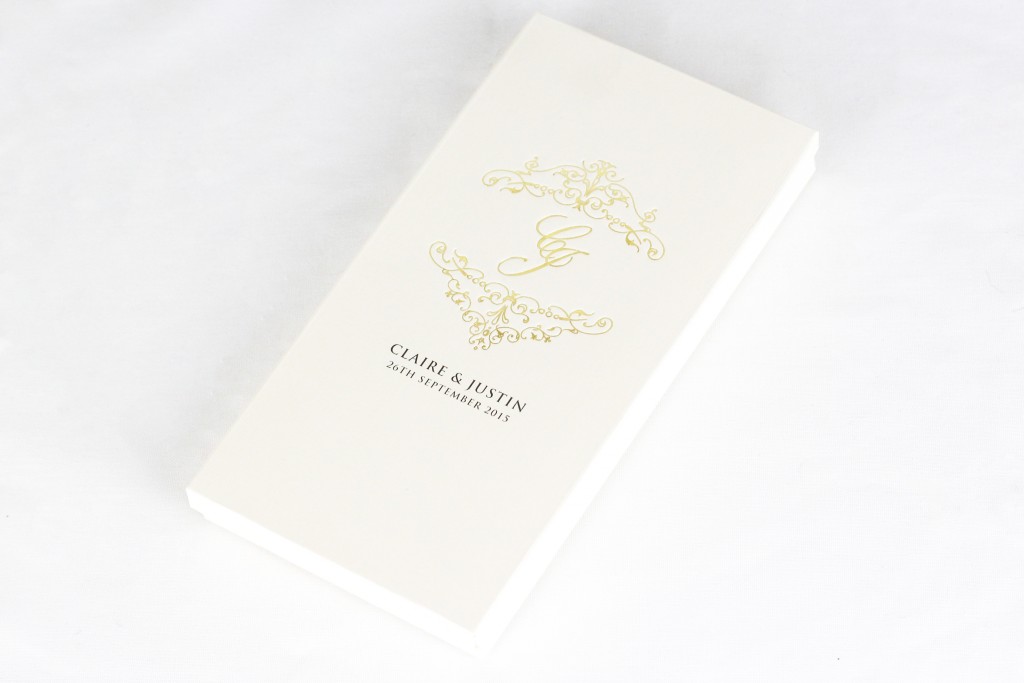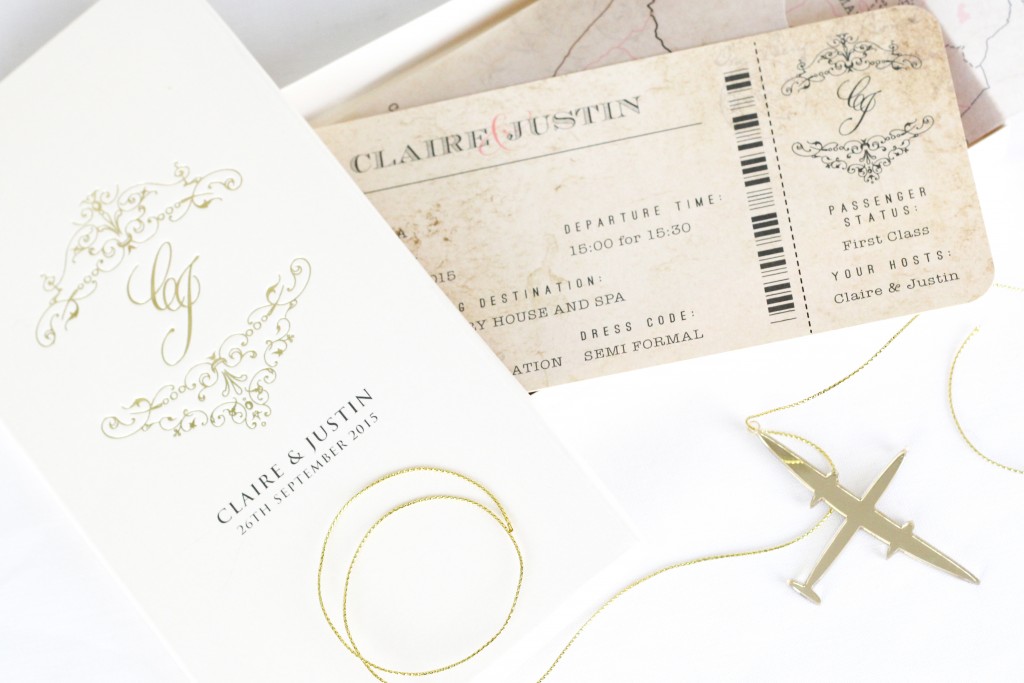 Standard Box Invitation: Square – Monogram in gun metal foil.