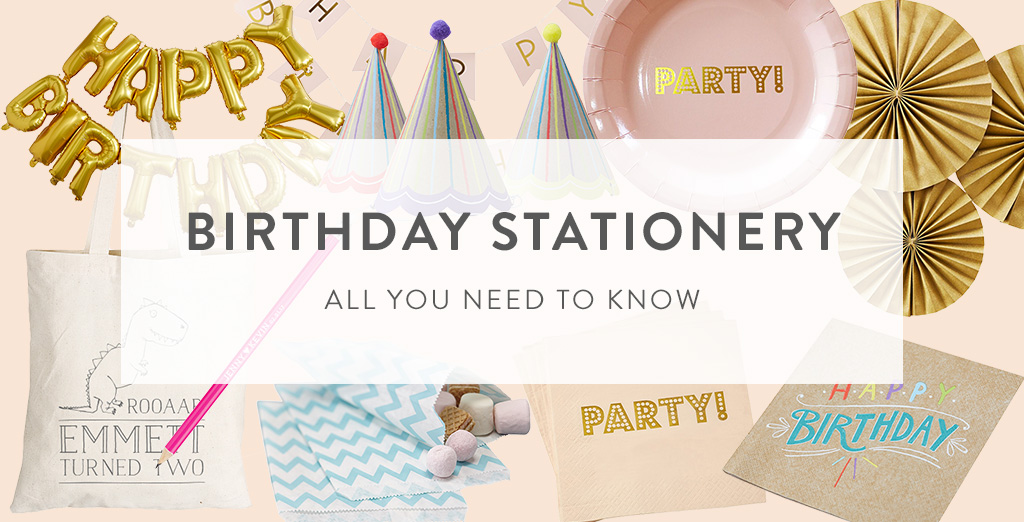 Birthday stationery: All you need to know
Whether you are turning 2 or 82 it doesn't matter – a birthday should always be celebrated in style and should never be spent quietly hoping that no one will notice that you're getting older. It is the after all the one day of the year that everyone celebrates you for being you! At Secret Diary we love birthdays because come on what is not to love? Eating scrumptious cake and tearing open wrapping paper will always near the top of my favourites list. We also happen to be pros at providing some of the tools in order to throw a top birthday bash.
So let's start at the beginning: Invitations. Every perfectly planned party needs to start with a show-stopping invite. Did you know that all of our wedding invitations on our online store can also be adapted for a birthday? Just pop us a comment when ordering your invitations that you would like it for a birthday. See our whole range of invitations here. We also have a range of cute themed kiddies invites – whether you are throwing your little one a pizza party or a Coco Chanel soiree then don't fret we have you covered! If you have something special in mind and can't see what you are looking for on our online store then please email us at info@secretdiary.co.za for us to design an invitation as unique as you are. For us, the sky is the limit and we would certainly love to assist you with any of your ideas, no matter how crazy they are!
So now that you have the invites done and dusted it's time to think about party decor. Don't you dare bring out that cheesy card shop happy birthday signage, rather have us custom make you personalised bunting and banners. We have a wide range of decor items on our online store from quirky cupcake toppers, themed napkins and personalised cake boxes to foil balloons, funky straws and pretty pom poms. Enquire with us for any further paper decor items, we would love to whip something up for you.
Oh no, the party is almost over – it's a fun idea to give your guests a party bag to continue the party at home. We make custom gift bags and boxes – from fancy personalised screen printed tote bags to quirky themed boxes. We even can fill them with goodies for you with customised gifts and snacks. Chat to us about suggesting some awesome goodie bag fillers unique for you.